Today I have the pleasure of speaking with Claudia Williams, author of 'Ted Williams, My Father'. I don't know anyone who hasn't heard of the long time Boston Red Sox greatest hitter, but if you haven't, you certainly will learn a lot after this interview and gain an appreciation of the game. For those of you who have followed Ted William's career, you'll find a refreshing new look at one of your favorite baseball stars. Through the eyes of his daughter. I met Claudia a couple of weeks ago at a book signing event, here in Citrus County. Her personality shown through in her presentation and willingness to talk to attendees, so I decided right there, I wanted to feature Claudia in an interview.
Me: Claudia thank you so much for taking the time out of your busy schedule and traveling for speaking engagements to speak with me today! Wow, you're a busy lady.. It's so important for authors to get out there and meet people, in addition to promoting on social media. What do you like best about personal appearances and how do you arrange them? With what purpose in mind?
Claudia: Personal appearances have always been a bit unnerving for me. I am by nature a very private person. I am also a very prepared and practiced person. There is little anticipating or preparation when it comes to personal appearances. BUT, with that in mind, right before I am to talk or appear before the public, I simply relax and try and be calm and smile within knowing that I know all the answers – just be myself.
Me: When I was reading the book, I immediately went to the center to the family photos. They illustrated the loving relationships and warmth between your dad and his children, you and your brother. You probably have tons of photos so what made you include these specific ones? (Sorry, readers, not posting them, but you'll see them in the book!)
Claudia: I tried to pick the pictures that were not only monumental in our family but the photos that reflected a specific moment in our life. They may not have all been my favorite pictures, but they spoke to the story or time that I was writing about.
Me: You've related very clearly at the book signing why you wrote the book, so can you please reiterate here why you did, for the benefit of those people who have not had the opportunity to meet you at an event? I believe that's a story important to be told.
Claudia: It was time to tell my family story and set the record straight. I am tired of people writing about my father, being regarded as experts on my father and my family, but they have never even shook their hand or had the privilege of meeting them. How can you write about someone you have never met? Never had even a 2-3 minute conversation? Well, quite frankly, you can't. But I can. I am family and I know them better than anyone. I know their greatest attributes and their worst flaws. BUT, I also understand why they have those characteristics and personality traits. I can tell you the "whys" behind the behavior.
Me: How did your dad's success affect you and your brother and affect your drive to succeed? What was your dad's view towards getting a higher education?
Claudia: I approach everything I do with a sense of commitment and determination to do it very well. I don't know if that always spells "success" but I know my work ethic and my motivation equals passion and genuine interest in what I am trying to accomplish.
Our father valued education for his children higher than anything else – probably because he thought of himself as "only a high school educated person". (As a side note, he is one of the most intelligent persons I have ever met). He wanted to be sure that we would always have an education to rely on and not rest on the laurels of our father's fame or success.
Me: I always like to give my readers some tips on life that they can emulate. What traits did Ted Williams have that made him so successful, more successful than any other left fielder? What are the most memorable traits that have stuck with you?
Claudia: "Whatever you do in life – give a damn" – that's a direct quote. Dad hated mediocrity and people who went about with a mundane attitude. He loved to see passion, fire, nerve and the courage to stand up for things and defend those that are less fortunate.
Me: Are there any things he would have done differently on the field in his nineteen- year baseball career, if he had a redo?
Claudia: I asked my father the same question. As a mature adult he wishes he could go back and tell his "cocky self" to be a bit more mature. I always smile when he said that because it was the "cocky self" that allowed him to sustain the drive, the teeth grinding, fist clenching drive to master something.
Me: Oh my goodness, Claudia, we could probably go on for hours, but I know how busy you are. Thank you so much for talking with me today.
Reprinted with permission:
About the book
In this poignant memoir, Claudia Williams, the last surviving child of legendary Boston Red Sox great and Hall of Famer Ted Williams, tells her father's story, including never-before-told anecdotes about his life on and off the field that reveal the flesh and blood man behind "The Kid."
Born after her father retired from baseball, Claudia Williams grew up with little idea that her dad was one of the most revered sports figures of all time—until she finally saw him in uniform at Fenway Park, receiving the adulation of thousands of fans.
Now in this moving and surprising memoir, Claudia offers an unexpected look at Ted Williams, viewed from a unique and fresh perspective. Here she recalls her childhood growing up with a baseball legend after his heyday, capturing their loving yet tumultuous relationship, and shares the beloved stories he passed on to her. Reconciling his talent on the field with his life off of it, Claudia reveals the myriad passions—including baseball and much more—which shaped who he was. She also speaks candidly for the first time about his controversial choice to be cryogenically preserved after his death.
Complete with sixteen pages of never-before-seen color photographs, told with sincerity and heart, Claudia William's poignant memoir is a love letter to New England and one of its greatest sons—Ted Williams—the champion, the man, and most importantly, the father.
Available at: AMAZON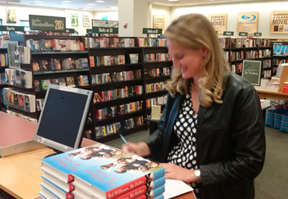 Barnes and Noble in Providence, RI
 Claudia's upcoming personal appearances, talk shows, and signings.

5/27 & 5/28  ESPN Keith Olbermann

5/25  FOX Boston

5/24  Inside Edition


5/23  WCVB Boston with Phil Lipov

5/22  WFAN / Mike Francesa

5/21  WBUR-FM / Radio Boston

5/21  NESN Red Sox Pre-Game Show

7/26  Ted Williams Museum 
Click Here to Visit the Ted Williams Museum

6/7    LIVE
XM Satellite Radio interview with Mel Antonen &Jeff Rickard

6/10  ET LIVE
St. Louis ESPN The Kevin Wheeler Show

6/10
Charlotte ESPN
730 The Bottom Line with Lanny Ford and Al Gardner 

6/10  9:30a St. Louis ESPN & 3:15p Charlotte ESPN

6/12  4:45PM St. Louis ESPN Radio (World Series Champion Cardinals Pitcher Brad
Thompson and Longtime St. Louis Broadcaster and Historian Randy Karraker as
hosts)

6/12 
8:00 ESPN Baseball Tonight interview with Tim Kurkjian

6/13
&
6/14  FOX & FRIENDS Weekend

6/13  7:05A Sid Rosenberg Show FLORIDA
7:25A WNST Baltimore Glenn Clark
8:30A Buster Olney Podcast
9:45A Bloomberg News
10:15a Northeast Sports Network
10:35 Brian Kenny NBC Sports Radio

6/14  6:45AM FOX & Friends

6/15 NESN

6/15 CBS Interactive.com

6/16 6:35PM EST San Diego Sports Radio with John Kentera at

6/17 9:00 WBZ Phone interview

6/19 3:30 Bill Murphy Interview

6/26 Yahoo Sports Radio with Elissa Campbell

7/3 Fenway Park Writers Event
Below are Claudia and me at a book talk and signing at the Citrus Hills Book Club. There was a packed audience!
Please feel free to leave comments and questions. We would love to hear from you and I hope you enjoyed this interview.
The Sign behind The Crime,
Ronnie